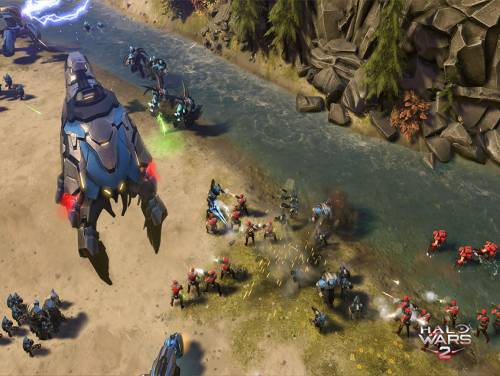 Welkom op onze pagina's, en vooral diegenen die gewijd zijn aan de trucs van Halo Wars 2. Zonder verder uitstel gaan we dit artikel aan u presenteren!
Kent u andere trucs of heeft u ander materiaal? Stuur het ons zonder problemen! U kunt op dit artikel reageren of privé contact met ons opnemen en we zullen de pagina dan ook graag bijwerken met de inhoud van het materiaal dat u ons hebt gestuurd!
Halo Wars 2 is een strategie spel dat snelle actie, massieve gevechten en een nieuw verhaal van Galo. Ontwikkeld door Creative Assembly, een bedrijf van SEGA en de makers van de serie populaire Total War, in samenwerking met 343 Industries video Game.
Dit spel is uitgebracht op 21/02/2017 en de trucs die we bezitten zijn geldig voor PC / XBOX ONE. Deze lijst zal in de loop van de tijd worden bijgewerkt telkens wanneer we merken dat er nieuwe consoles zijn waarop Halo Wars 2 is gepubliceerd.
Ontdek veel Trucs, Tips en Strategieën voor Halo Wars 2 (PC / XBOX ONE): Doelstellingen, Handel, Oplossingen.
De Trainer voor Halo Wars 2 is ook beschikbaar. Een trainer is een programma dat tijdens de uitvoering van het spel trucs toevoegt. Onderaan de pagina staat een lijst met trucs die je met dit programma kunt ontgrendelen.
Voor jullie hebben we ook de lijst met de Achievements van dit spel beschikbaar gemaakt, met een automatisch vertaalde uitleg over hoe je ze kunt ontgrendelen.
De inleiding is voorbij. Hier zijn de trucs voor dit spel.