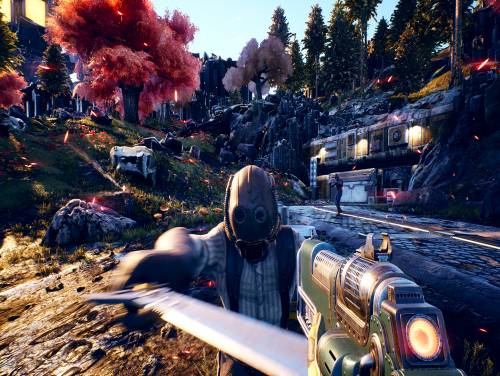 Welkom op de gerelateerde trucspagina van The Outer Worlds. We laten je al het materiaal zien dat we hebben gevonden, dit is een site die volledig is gewijd aan trucs en walkthroughs voor videospellen.
Als je nieuwe geheimen of codes hebt gevonden en deze wilt delen, aarzel dan niet! We zijn altijd blij om ons materiaal met ander te kunnen integreren en het voor iedereen beschikbaar te maken.
De Uiterlijke wereld is een nieuwe Rpg van de sci-fi enkele ontwikkeld door Obsidian Entertainment en geproduceerd door de Eigen Divisie. Verken een ruimte kolonie, het ontwikkelt je karakter en verwijst u naar het verhaal. In de vergelijking, de bedrijven hebben verstrekt, u bent de onverwachte variabele.
The Outer Worlds is gepubliceerd op 01/01/2020 voor PC / PS4 / XBOX ONE / SWITCH. We zorgen ervoor dat de lijst met consoles waarvoor het spel in de loop van de tijd is gepubliceerd, wordt bijgewerkt als de trucs ook van toepassing zijn op nieuwkomers.
Ontdek veel Trucs, Tips en Strategieën voor The Outer Worlds (PC / PS4 / XBOX ONE / SWITCH): Edit: Lange Wapens en Bewerken: skill points huidige.
Niet alleen dat, we kunnen je ook de walkthrough van dit spel aanbieden! Raadpleeg de walkthrough van The Outer Worlds van apocanow, of een selectie van YouTube-video's die speciaal door derden zijn gemaakt om alle andere spelers te begeleiden bij het voltooien van het spel. Walkthroughs zijn ook vaak nuttig voor het voltooien van de Doelstellingen en Trofeeën.
The Outer Worlds heeft ook een Promotrainer beschikbaar. Als je deze downloadt en uitvoert terwijl je speelt, kun je nieuwe functies krijgen, meestal extra trucs die op geen enkele andere manier kunnen worden verkregen.
Ook beschikbaar aan het einde van het artikel is de lijst met de Achievements van dit spel met een indicatie over hoe je ze kunt ontgrendelen.
Na het voorwoord, laten we je de trucs zien die we hebben gevonden.