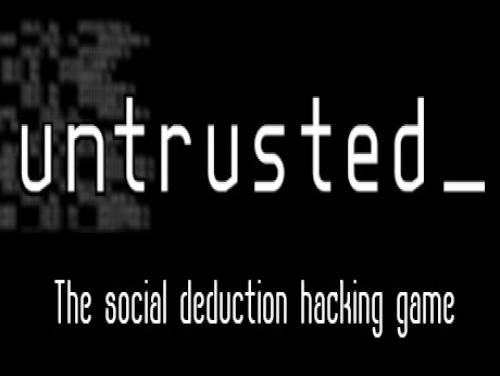 Welkom bij het artikel op deze site over de trucs en ontgrendelaars van Untrusted. Alle geheimen die we over dit spel weten, zijn op deze pagina geschreven.
Kent u andere trucs of heeft u ander materiaal? Stuur het ons zonder problemen! U kunt op dit artikel reageren of privé contact met ons opnemen en we zullen de pagina dan ook graag bijwerken met de inhoud van het materiaal dat u ons hebt gestuurd!
Untrusted is een online social hacking / deduction game voor meerdere spelers (10 tot 16 spelers): hack als hacker je doelwit - als undercoveragent breek je de operatie af. Volg je doel of dood iedereen - de keuze is aan jou.
Untrusted is gepubliceerd op 09/05/2021 voor PC. We zorgen ervoor dat de lijst met consoles waarvoor het spel in de loop van de tijd is gepubliceerd, wordt bijgewerkt als de trucs ook van toepassing zijn op nieuwkomers.
Ontdek veel Trucs, Tips en Strategieën voor Untrusted (PC): Bruikbare tips.
Onderaan deze pagina kan u de lijst lezen met de te bereiken Doelstellingen voor de bijbehorende consoles, samen met een kleine uitleg over hoe u deze kunt bereiken.
Nu gaan we over om u de trucs te tonen na de inleiding die we zojuist geschreven hebben.