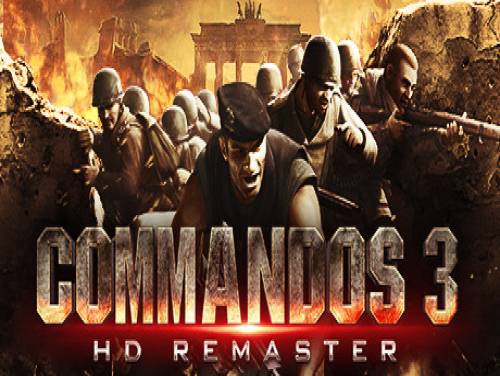 We laten je graag het videospelmateriaal zien dat we hebben verzameld voor Commandos 3 - HD Remaster!
We hopen dat het u zal helpen en dat u ons werk zult waarderen. Als je trucs hebt om voor te stellen, reageer of neem contact met ons op en we zullen de pagina bijwerken.
In de rij, soldaat!Commandos 3 - HD Remaster katapulteert je naar de meedogenloze en meedogenloze slagvelden van Europa.
Ons materiaal kan worden gebruikt met de volgende consoles: PC. Deze lijst wordt voortdurend bijgewerkt sinds PC of sinds wanneer het spel is uitgekomen.
Ontdek veel Trucs, Tips en Strategieën voor Commandos 3 - HD Remaster (PC): Geen vermomming en speelsnelheid.
Commandos 3 - HD Remaster heeft ook een Promotrainer beschikbaar. Als je deze downloadt en uitvoert terwijl je speelt, kun je nieuwe functies krijgen, meestal extra trucs die op geen enkele andere manier kunnen worden verkregen.
Onderaan de pagina vind je ook een lijst met de ontgrendelde doelstellingen in dit spel met een kleine gids. De lijst is in het Engels, maar we hebben ook een automatisch vertaalde versie toegevoegd om het begrijpen te vergemakkelijken.
De inleiding is voorbij. Hier zijn de trucs voor dit spel.