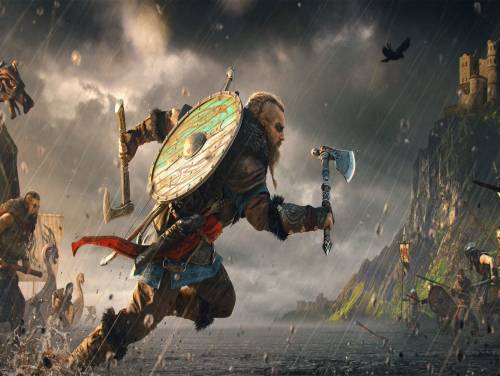 Hallo en welkom bij Apocanow. We presenteren het artikel over de trucs en codes van Assassin's Creed Valhalla. We hopen dat het nuttig zal zijn en het u in staat zal stellen uw spelervaring te verbeteren.
Als u ander materiaal heeft, aarzel dan niet om het te plaatsen of naar ons op te sturen. We zullen het heel graag en met eventuele bedanking in het artikel plaatsen.
Je bent Eivor, je lot is om een ​​legende te worden onder de Vikingen.
Dit spel is uitgebracht op 10/11/2020 en de trucs die we bezitten zijn geldig voor PC / PS4 / XBOX ONE. Deze lijst zal in de loop van de tijd worden bijgewerkt telkens wanneer we merken dat er nieuwe consoles zijn waarop Assassin's Creed Valhalla is gepubliceerd.
Ontdek veel Trucs, Tips en Strategieën voor Assassin's Creed Valhalla (PC / PS4 / XBOX ONE): Onbeperkte en onzichtbare gezondheid.
Niet alleen dat, we kunnen je ook de walkthrough van dit spel aanbieden! Raadpleeg de walkthrough van Assassin's Creed Valhalla van apocanow, of een selectie van YouTube-video's die speciaal door derden zijn gemaakt om alle andere spelers te begeleiden bij het voltooien van het spel. Walkthroughs zijn ook vaak nuttig voor het voltooien van de Doelstellingen en Trofeeën.
Wil je veel trucs en wil je dat ze effectief zijn? Dan moet je de Trainer van Assassin's Creed Valhalla proberen die beschikbaar is op deze site. Download hem en voer hem uit terwijl je speelt: het zal je toelaten nieuwe trucs te ontgrendelen die anders niet kunnen worden ontgrendeld.
Voor jullie hebben we ook de lijst met de Achievements van dit spel beschikbaar gemaakt, met een automatisch vertaalde uitleg over hoe je ze kunt ontgrendelen.
En hier zijn eindelijk de langverwachte trucs voor dit spel.