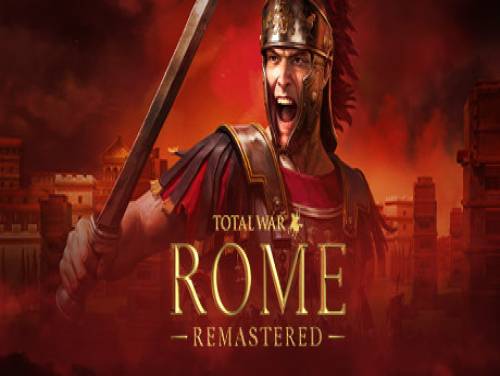 Welkom bij het artikel op deze site over de trucs en ontgrendelaars van Total War: Rome Remastered. Alle geheimen die we over dit spel weten, zijn op deze pagina geschreven.
Kent u andere trucs of heeft u ander materiaal? Stuur het ons zonder problemen! U kunt op dit artikel reageren of privé contact met ons opnemen en we zullen de pagina dan ook graag bijwerken met de inhoud van het materiaal dat u ons hebt gestuurd!
Total War: Rome Remastered brengt je terug naar de erfenis die bepalend was voor de bekroonde strategiespelfranchise.Probeer opnieuw Remastered in 4K met talloze grafische verbeteringen en gameplay-verfijningen, het is tijd om een ​​echte klassieker opnieuw te bezoeken. Verover het Romeinse rijk. Probeer het opnieuw.Riprova RiprovaTotal War: Rome Remastered bevat downloadbare content 'Alexander' en 'Barbarian Invasion', evenals een kopie van de originele Rome: Total War Collection, als je die nog niet hebt.Riprova Opnieuw proberenRiprova
Total War: Rome Remastered is gepubliceerd op 29/03/2021 voor PC. We zorgen ervoor dat de lijst met consoles waarvoor het spel in de loop van de tijd is gepubliceerd, wordt bijgewerkt als de trucs ook van toepassing zijn op nieuwkomers.
Ontdek veel Trucs, Tips en Strategieën voor Total War: Rome Remastered (PC): Bruikbare tips.
Een lawine van trucs voor jou dankzij de trainer van Total War: Rome Remastered te downloaden op deze pagina! Een trainer is een programma waarmee je het spel veilig kan bewerken door trucs toe te voegen die voorheen niet bestonden. Vind alles op deze pagina!
Voor jullie hebben we ook de lijst met de Achievements van dit spel beschikbaar gemaakt, met een automatisch vertaalde uitleg over hoe je ze kunt ontgrendelen.
De inleiding is voorbij. Hier zijn de trucs voor dit spel.