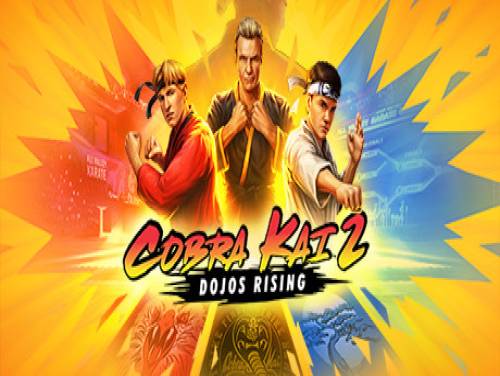 We laten je graag het videospelmateriaal zien dat we hebben verzameld voor Cobra Kai 2 : Dojos Rising!
Als u ander materiaal heeft, aarzel dan niet om het te plaatsen of naar ons op te sturen. We zullen het heel graag en met eventuele bedanking in het artikel plaatsen.
Rekruteer... Train... Vecht!De All Valley wacht op je!Eagle Fang, Cobra Kai of Miyagi-Do - kies je dojo en stel een onstuitbaar team samen.Beheers je vechtstijl en consolideer de ERFENIS van je dojo door te vechten als de All Valley Karate Grand Champion!
De trucs in ons bezit zijn geldig voor PC / PS5 / XSX / PS4 / XBOX ONE / SWITCH en zouden allemaal geldig moeten zijn sinds het spel uitkwam, dat wil zeggen sinds 08/10/2022. We werken de consolelijst elke keer bij van zodra er een nieuwe console aan de lijst wordt toegevoegd.
Ontdek veel Trucs, Tips en Strategieën voor Cobra Kai 2 : Dojos Rising (PC / PS5 / XSX / PS4 / XBOX ONE / SWITCH): Onbeperkt leven, bevroren timer en spelsnelheid.
Zou je veel trucs willen voor Cobra Kai 2 : Dojos Rising die je anders niet zou kunnen krijgen? Download de Trainer die beschikbaar is op deze site onderaan de pagina. Eenmaal uitgevoerd en geactiveerd, kan je trucs aan het spel toevoegen die je anders niet kan krijgen.
Onderaan de pagina vind je ook een lijst met de ontgrendelde doelstellingen in dit spel met een kleine gids. De lijst is in het Engels, maar we hebben ook een automatisch vertaalde versie toegevoegd om het begrijpen te vergemakkelijken.
Nu gaan we over om u de trucs te tonen na de inleiding die we zojuist geschreven hebben.